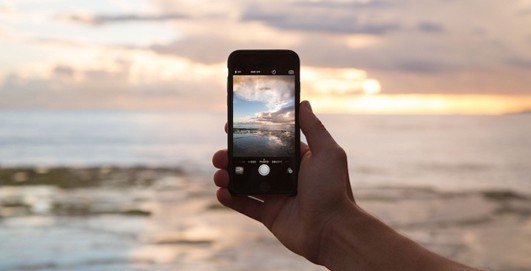 Think about some of your favorite brands and what it's like to interact with them. How often do you visit their sites or use their apps? How have those positive experiences translated beyond the screen? Have you purchased a product, connected with people, or recommended the service to a friend?
Great experiences are the culmination of a user's daily brand engagement, like in this case study, and experiences that extend beyond the screen. UX designers must learn to think "outside of the box," so to speak. Here are 3 ways UX designers can start thinking outside of the screen and start thinking about the full end-to-end experience.

User Research
Becoming an expert at going from observation to insights to action is critical. But data and analytics don't help you understand the "why" behind a user's actions. So get to know your users through their eyes and their experiences –– not through just what the data says. As seen in this user research basics guide, even talking to a small user research segment of 3-5 helps you to develop keen observation and insights about their needs, expectations, and desired outcomes. Here's a checklist of best practices. Feedback is instant! User research humanizes the process of product design with real solutions for real people. It also helps you have a conversation, which will encourage your creativity and let you explore topics more in-depth or from a new perspective.
As a designer you also have to be able to communicate all of this to the company's stakeholders and clients. Make sure you've documented the results of your research, whether from interviews, group discussions, or questionnaires. Highlight common problems and proposed solutions. Make sure stakeholders and clients understand how these findings affect them or their area of business. Above all, when you present your findings — tell a story, set the context, and help them see beyond functionality and really intimately understand the people the product is for.

Internal Collaboration
Marketing, technology, customer service, and other teams in the company impact user experience –– even though the core focus of these teams is usually on their business unit's goals. To design a great solution, you need to understand the problem. And to understand the problem, you must talk to stakeholders inside the company. Because you're talking to many different departments, you have a unique opportunity to be the glue that holds everyone together.
The problem is, these teams don't always come together. When they do, they often fight over development aspects like features. They easily get stuck in the weeds. This happens because they often enter a project in the middle of the product development process. As a result, they have no context and don't understand the decisions that were made and all the design thinking that happened to get to that point. This makes facilitation, collaboration, and communication between them a balancing act.
UX designers often spend a lot of time focusing on process, method, and software. But to be successful you need more than that. Soft skills are important and not often taught, but understanding that the UX impacts the company's bottom line will create some common ground. This will help everyone see where there are opportunities and key touch-points in the entire development process.

Examining the Gaps
When I call customer service from the Delta Airlines app, they already know who I am, what upcoming flights I have, and my SkyMiles status. They anticipate my needs and ask, "Are you calling about your upcoming trip to…?" There's no annoying process of me fumbling around for a confirmation number or risk that they don't hear the number correctly.
Sometimes what makes a great experience is what the user doesn't have to do. I don't have to directly interact with the Delta app's user interface to communicate any of my travel details. By making this feature of the Delta app screen-less, they streamline their customer service. The design team at Delta clearly identified a gap and filled it with a great design solution.
Hopefully your user research and internal collaboration helped you to identify and examine any gaps in the user experience. Closing gaps in requirements improves clarity for the end user. The more intuitive the design, the better you can anticipate user needs, and the better the overall user experience.
To create a successful product, you have to create an experience that people remember — and want to come back and experience again and again. To craft an experience that sticks with a user even when they're not logged in, UX designers must think beyond the screen.
Today, the product is the experience and the experience is the brand. As a result, the stakes are high for companies who don't create great experiences. A UX designer must consider a user's whole journey, and to do that you have to work collaboratively with other teams and get to know your users. You need to apply design thinking to user-centered problems both on and off the screen.

Take the first step by signing up for my free live webinar:
"4 Mindsets User Experience Designers Need To Go Beyond UX 101."
We'll consider these questions in greater depth, and you'll be well on your way getting beyond the basics of UX.