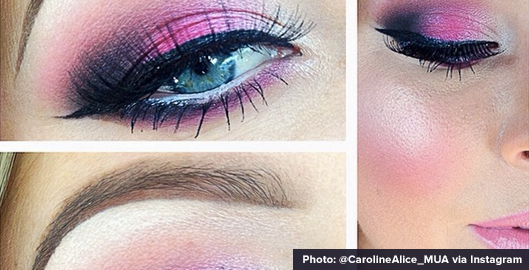 At TechCrunch Disrupt, an amazing company called Mink gave a demo of their desktop makeup printer that will let you print makeup …. yes, makeup!
Grace Choi, came up with the idea while she was at Harvard Business School. People don't normally associate the beauty industry with tech, but Grace is definitely going to change that.
Turns out, that cosmetics are all made of the same basic raw materials, the most important being color. Color is where the cosmetic companies make all their money.
As Grace explains in her talk at TechCrunch Disrupt, big companies such as Target, WalMart, and various drug stores can't offer you as much selection as a speciality cosmetics store such as Sephora. Why? Because in the supply chain, volume discounts drive the price point. The big companies, can only select colors that will sell out in mass volumes. But if you want to select a more unique color, you have to go to a big store like Sephora where you'll end up paying a lot more because the more unique colors simply don't sell at the same volume as the more generic colors.
What's amazing though, is that with Mink, there is absolutely no limit to the color options you will have for makeup in the printer. The Mink makeup printer will literally enable you to print any color in the world.

Insights on How Social is Changing the Beauty Industry
Grace has some really amazing insights on her target customer. Teens today are not getting makeup ideas from magazine and ads. Instead, they are getting makeup ideas from other makeup enthusiasts on social media. Incase you didn't know, there's a massive increase in everyday people posting makeup tips to things like Instagram, YouTube, and Pinterest.
The big problem is many people see a color of makeup they love in a photo or a video but they have no idea what exact color it is (unless the person who posted the video or photo identified it).
For example, my friend Caroline is a makeup artist and she posts daily makeup photos her Instagram account @carolinealice_mua. This post has over 400 likes!! Sometimes, she tags the brands that she uses. But still, as a user I don't know the exact shade unless she notes that in the comments.
Here's another example from my Pretty Faces board on Pinterest. I regularly see pins that have over 3,000 repins for makeup tutorials. It's important to note these are not normally pins from a major cosmetics brand (Sephora, Mac, etc). The most popular pins for beauty are normally by bloggers, makeup artists, and everyday people.
Follow Sarah's board Pretty Faces on Pinterest.
How It Works: Choosing A Color & Printing the Makeup
The Mink makeup printer is amazing because you don't need any fancy software. All you need is the Mink printer (which will retail for approximately $300), regular printer software, and some type of software that lets you choose a color on your screen with a color picker (eg. Photoshop, Microsoft Paint, etc).
So to choose an actual color, you just activate a color picker tool such as below. Then, you place your mouse on the color you like, and click your mouse to select the color you want for your makeup.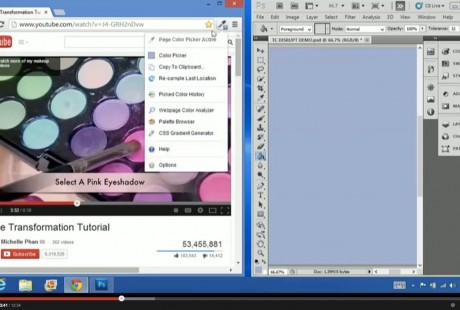 Every color has what's known as a HEX value (or a color code). So now, the color code is copied to your computer clipboard. Now, you would just open up a program such as Photoshop or Microsoft paint and make a little document and fill that document with the color code from your clipboard. In the example below, Grace picked the pink eyeshadow and then on the right created a Photoshop document  (swatch) and filled that document with the pink color she wanted her makeup to be.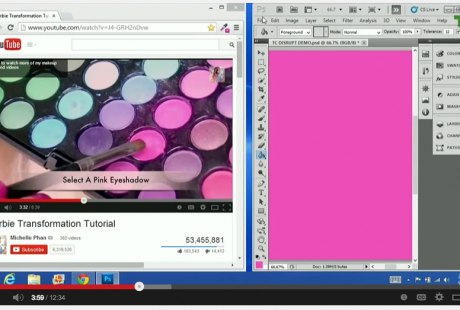 Then, you just print that document the same as you would print any other document, and the Mink makeup printer will print a little square of eyeshadow in that exact color in a minute or so. Here's what the final product looks like: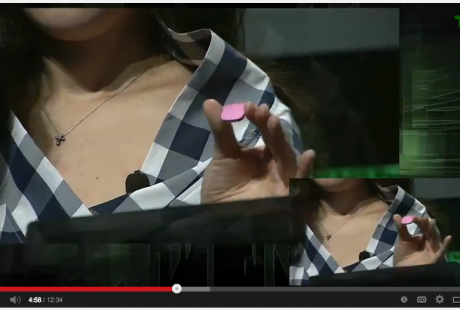 How Exactly Does the Printer Actually Print the Makeup?
As I understand the process, in order to print makeup with the Mink makeup printer, you'll need to buy two things. First, you will need to buy substrates which are the raw materials to print on. Think of a substrate as being paper for your printer.
In the demo, Grace uses a substrate for eyeshadow. Think of a substrate as basically the "paper" that the ink prints to. So in the case of eyeshadow, the substrate would be some type of pressed power that feeds through the printer. If we were printing a cream or lipstick, that would require a different substrate.
The other thing need is the ink cartridge that will give the substrate the color. Both the substrates and ink are FDA approved and will be sourced from the same places that cosmetic companies get their supplies. Because of the FDA approval, Mink should be available for market much sooner than if it needed to get other approvals etc.
Also, after the makeup is printed, you will just be able to put it into the little case that most makeup comes in, and it will be exactly like a case you might buy at a cosmetics store.
What Does This Mean For The Beauty Industry and Consumers?

If Mink actually takes off, it will mean that, as Grace says:
The Internet will become the largest beauty store in the world. We're going to live in a world where you see take a picture of your friend's lipstick and just print out the lipstick.
Grace also believes that the Mink makeup printer can help to redefine the definition of beauty as something that girls themselves can control, not our corporations.
What's also really amazing about the Mink makeup printer is that it will forever change the pricing of beauty products. Let's say I was going to an 80's birthday party (which I did recently) and I wanted to buy blue eyeshadow. Most makeup does not come in single little portions. Instead, makeup (especially eyeshadow) is sold in palettes. A lot of the time, I find that when I buy a palette, I never use all the colors.
Well, now with the Mink, I will be able to only have the exact colors I want. This is truly amazing!!! Also, it will bring the cost of makeup down significantly because it will not be sold at the unit level and no the palette level.
Or, imagine that you wanted a certain shade of lipstick. Maybe instead of printing a full tube of lipstick, you will be able to print half a tube. Because how often d you actually go through an entire tube of makeup?
Here is the full demo of Grace Mink demoing the Mink Makeup Printer at TechCrunch