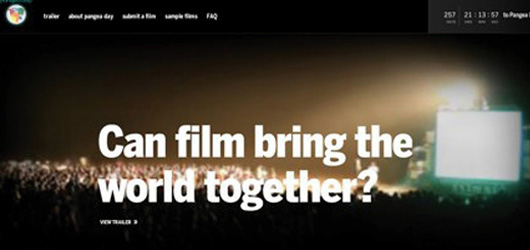 Can short films change paradigms and birth a global acceptance of diversity and peace?
Jehane Noujaim, an award winning filmmaker, had a dream: to see a global acceptance of diversity, mediated through the power of film.
In 2006, Jehane was awarded the TED Prize, which granted her wish to change the world. Together, Jehane, along with fellow members of the TED community, conceived Pangea Day – a global event bringing the world together through film. Pangea was chosen because it is the name of the super-continent that broke apart 200 million years ago to form the present continents.
On May 10, six events will be linked via satellite to produce a program of live events, speakers, and 24 short films selected from more than 2,500 submissions. The films were selected based on their ability to transform, inspire, and shift our paradigms to create new perspectives on global causes that affect us all.
The hope is that Pangea will create a global movement focused on heightened awareness, empathy, compassion, and peace on a global level. After Pangea Day, there are plans to launch a series of community building activities to help provide people with outlets for change.
I've been following Pangea Day since I learned about it through the TEDConference last summer. Can film birth a global acceptance of diversity and peace? It remains to be seen. But I do believe that no other medium is more suited to deliver a global message that will speak to all cultures.
The currency of today is about ideas and experience. Experience transcends all barriers that a culture can have, whether language, distance, or time. Experience is the only language that unites us all because it is the only language that resonates with the human spirit.