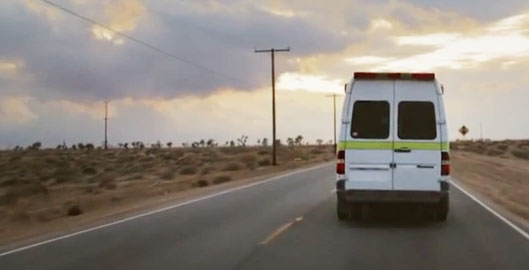 A few weeks ago, I went to an event at Google where they introduced the new Solve For X project and their initiative to encourage and connect people working on Moonshot Ideas.
At the event, the makers of the Invisible Helmet spoke about their experience in making the helmet. After the speakers told us about their projects, the attendees broke up into groups to discuss how to take these Moonshot Ideas even further.
Here's what the Invisible Helmet actually looks like … and yes, this does mean that I could actually wear a bike helmet because I wouldn't have to worry about it fitting over my somewhat large hair!
Although I wasn't in the group brainstorming for the Invisible Helmet, I had so many ideas I wanted to share! Incase you're not familiar with the concept, the helmet is basically a collar that you wear around your neck. The helmet has sensors in it that transmit hundreds of datapoints a second. So, if there is any indication that an accident has occurred, the helmet knows and can instantly deploy the airbag located inside the helmet's collar. Here's a cool video about the making of the Invisible Helmet:
Since the helmet is digital and connected, I thought it would so amazing to also be able to link the helmet to an individuals' health information so that if there were an accident, there would be information on file such as an emergency contact, primary doctor, and any other basic, but helpful information on health conditions. To take it one step further though, I thought it would be really cool that if there was an accident, the helmet could transmit data to the first responders or physicians in the ER. So for example, if someone were involved in an accident, wouldn't it be amazing if the team in the ER could have information such as speed at which the cyclist was travelling, distance that they were thrown, weather conditions at the time, as well as other datapoints that could be derived from the information available.
At the event, a guy in our brainstorm group had Google Glass and we tried it out. It seems like Google Glass could be a really helpful tool for first responders. Imaging if EMS technicians wore Google Glass when they responded to emergencies. If they were wearing Google Glass, they could be taking photos and sending very important information to the ER so that the medical team understood more about the context of the patient's situation. I'm not trained in medicine at all, but seems to be that this would be very helpful because a lot of times, I'm sure that context is critical in treating a patient.
What's the point here?
Well, all this has got me thinking about the idea that user experience requires us now more than ever to look beyond the screen.
Experience is not limited to a screen.
There are a lot of experiences in life that happen away from a screen, but still need to be well designed and could benefit largely from applying design thinking and user centered problem solving / solution setting. This makes me really excited because as much as I love designing for a screen, the idea of thinking beyond the screen is really fascinating!
To give a bit more visual to all these ideas that I have about how user experience extends beyond the screen, I wanted to share this really great commercial that Cisco made as a part of their Tomorrow Starts Here campaign:
I think this is an excellent example of how the future will demand for us to think beyond the screen  and consider how we create context and meaning to all the experience that happen in between the times that we are not infront of a screen.
I'm excited about the future of user experience and the potential for us to connected the dots of experience between the screens.
READ THIS NEXT:
Advice For UX Designers: On Writing, Part 3 – Where To Write