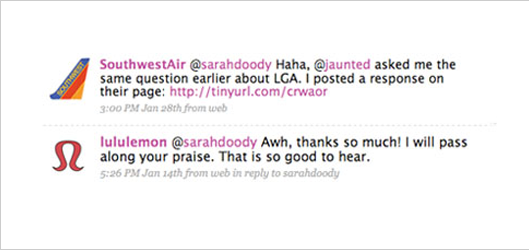 With a growth rate of over 900 percent last year (and now 6 million users) Twitter is rapidly becoming a part of our every day life – and brands want to be a part of it. So much so that there are dedicated people at companies such as Comcast, Time Warner, Livestrong, Southwest, and Lululemon that use Twitter as a means to be a part of the conversation about their brands.
In a recent interview with Charlie Rose, Marc Andreessen, described Twitter as being "a real time electronic worldwide nervous system". The challenge now lies in creating a way to read this nervous system, measure what's happening, and make this information accessible and useful to a brand's ability to continue conversations with consumers.
The question everyone wants answered is – how will Twitter make money? Having just closed on a $35 million investment from Institutional Venture Partners and Benchmark Capital – Twitter is eying search as a means to increase their value. However, the company says that the priority right now is to continue the user growth.
For more on the influence of search in Twitter's future, check out the article Twitter Eyes Search as a Means to Monetize from adage.com
READ THIS NEXT:
Re-Creating A Mindset