We accelerate innovation in products, companies, teams, and people.
We are an education and career coaching company for professionals in the User Experience (UX) and Product Design industries. We help our clients develop the skills and confidence to land their dream jobs and thrive once they're hired.
We are known for our immensely detailed training programs, our incredible success stories, and being laser focused on helping our clients take action.
We are a small team led by Sarah Doody, a User Researcher and Experience Designer. In 2017 Sarah started an education arm in addition to the UX consulting that she does. 
Our team is dedicated to the education side of the business where we focus on developing programs and services that help UX and Product Design professionals land their dream roles. 
At present, we do this Career Strategy Lab as well as working with companies to help them hire UX professionals at all stages of their careers.
We are dedicated to building a company that's remote-based and allows us to work from anywhere. Though we aim to have overlapping working hours in the Eastern time zone, we value being able to work when we want, so long as we get things done on time and with excellence. In the winter months, Sarah plans her projects and schedule so she can be on the ski slopes during the week and often gets things done on the evenings, weekends, or over lunch at the mid-mountain ski lodge.
Our commitment of working to live drives us to work smarter and more strategically so we can have time and energy do the things we love to do outside of our professional lives.  
You will play a key role in helping our company transform people's careers and lives. Our clients often double their salaries and land more fulfilling roles at companies where they can use the skills to have the impact they long for.
Our impact extends beyond the job offer. The confidence and professional skills our clients learn to equip them with life-long strategies to be more effective once they are hired. We take this career-long impact seriously and it drives us to keep innovating and delivering industry-leading training and coaching programs.
Here's just one of the many amazing outcomes our clients have after working with us: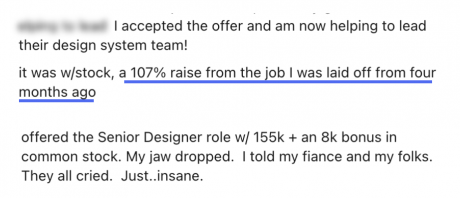 We have a mission to change the lives of our clients, and trajectory of their careers, through igniting much-needed career confidence, leading them to dream big and have fulfilling professional and personal lives. 
We aim to help each of our clients design a career that helps them live the life they want to live – and this applies to everyone on our team as well. 
We are fast-paced, but never frantic. We do not subscribe to hustle culture. Through thoughtful planning and strategic we work smart, streamline, and never let stress get the best of us. 
We are Problem Spotters (and solvers). We're always looking for new opportunities to optimize how we work and help or customers with problems they don't even know they have.  
We have a figure-it-out mindset. We are resourceful and get excited to learn new things. We love to find creative solutions and improvise with intention and curiosity.
We believe the most important product you'll work on is you. We know that when we work on ourselves, we can show up ready to contribute and be a stronger and more impactful team, together.
Open Roles With Sarah Doody
We don't have any open roles right now.
Check back in the future to see if we have new opportunities.