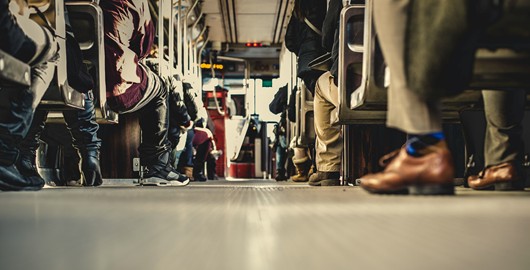 Last weekend I was out at the beach two hours from NYC. To get to the beach I take a bus. You can pay for your ticket in advance or on the bus. There's a person on the bus that goes down the aisle and collects payment from each of the passengers. As I watched her try to balance in the aisle, I realized it's a pretty time-consuming process.  While I was sitting on the bus watching her, I had an idea.
What if there was an app that you could download that would allow passengers on the bus to pay electronically? Or, what if you could send the bus company your payment through Venmo? I like that idea better because it would mean that the bus company would not need to make their own app.
However, I can see why the bus company would want to make their own app. It's kind of a status thing and it would give them another place to sell advertising to brands that would resonate with the people who ride the bus out to the beach. But honestly, making an app is a lot of work. Sometimes it's best to make use of existing technology rather than make your own.
That's why I thought that if the bus company had a Venmo account, then it could be a simple way for people to pay for their fares electronically. Another reason for starting out with something like Venmo would be that this would be very fast and cheap to set up. Then, the bus company could test it out and see if people paid for their fares electronically. If riders adopted this, then perhaps it would make sense to pursue an app idea. I could see riders making use of an app to see fares, schedules, and maps of where each stop is. This information is currently available on their mobile site, but the mobile site is a fairly bad user experience. So maybe first, the bus company should improve their site.
The point is that you shouldn't build technology just for the sake of building it. You should consider whether there are existing technologies or services you can use to give your customers the same end result. Using Venmo would be a great test for the bus company to implement for a summer.
When I travel, I am always spotting problems and figuring out how to solve them. I think this drives my friends crazy, but I love it. These type of quick design and problem-solving exercises are what help you become a better designer.
I also love design challenges like this because it helps me solve problems outside of just a website or an app. I can solve design problems when it comes to digital products pretty quickly because I think about it all day long. But, thinking outside of your comfort zone is critical.
If you want more design challenges, then be sure to sign up for my UX newsletter, The UX Notebook, where I include a series of Trigger Questions each week to help you jumpstart thinking and designing with your teams.