Optimize your product with a UX Audit
Understand UX flaws and get immediate recommendations for change.

At some point, every product manager, founder, and designer asks:
Why aren't people signing up for our product?
What's stopping free accounts from converting to paid customers?
Why are people not completing key user-flows (on-boarding, checkout, etc)?
How can people not understand how to use that feature?
Why do we spend so much time fixing features we release?

Here's the problem … your team is missing crucial UX flaws because you're too close to your product.
Your team keeps designing solutions without defining the problem. You keep guessing at what's wrong. But your guesses are biased because you're stuck in the weeds.
You need a fresh set of eyes to help you see the crucial UX flaws with your usability, information architecture, visual design, messaging, and content.
But you also need action. You need someone who can understand your business and give you actionable recommendations about changes you can make to your product to increase conversion and engagement.
This is why you need a professional UX Audit …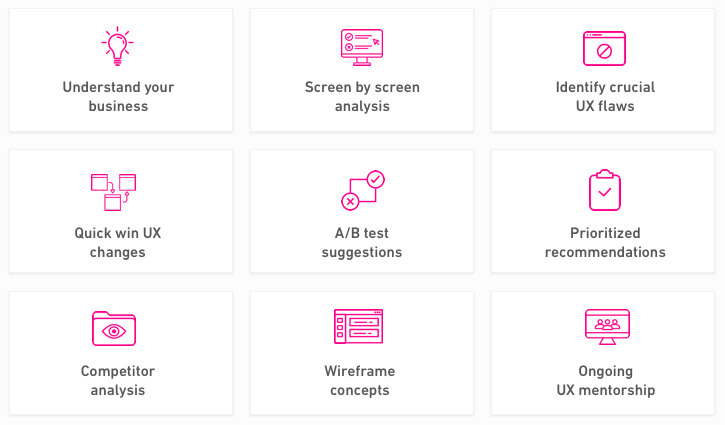 Should you consider a UX Audit for your product or prototype?
A professional UX Audit is meant to help founders, product owners, designers, and developers see their product through a fresh set of eyes because they're too close to it.
Product owners who have a digital product that is not converting and want to find and fix the problems with key user-flows.
Founders who have a prototype but want to catch any obvious tweaks and improvements before moving to development, (because auditing a prototype is cheaper than re-coding a live feature).
Product managers and founders who need external and unbiased eyes to help identify 'low hanging fruit' you can't see because you're too close to the product.
Investors who want to support their portfolio companies with a UX partner who can help keep the teams laser focused on incremental UX changes while not losing sight of the full customer experience.
Product teams who want to benchmark their UX to see how they stack up against competitors and identify where to prioritize resources for future UX improvements.
What exactly will you get in a UX audit?
The UX Audit report will be about 30 – 50 pages. Don't worry, it is not a giant text document. I considered the UX of the report. It's highly visual, easy to understand, and covers these areas:
Usability

Information architecture
Conversion & user flows

Visual Design

Content, messaging & language
Competitors (optional)
Email communications (optional)
The UX Audit can be tailored to a specific area of your product experience (e.g. user on-boarding, checkout, etc). We can discuss this on our first call together.
You will also get a one hour video conference where we will go over the audit findings so we can start a conversation with your team that lasts long after our engagement ends.

Sample deliverables from a UX audit:


How long does a UX Audit take and what's the cost?
The pricing starts at $10,000 USD and depends on complexity and number of platforms (e.g. desktop, mobile, tablet).
Many teams use traditional usability testing, which can often be time consuming due to the process of recruiting participants and planning the sessions. Usability testing can easily take 6 weeks or longer.
UX Audits can be done faster, normally within 3 – 4 weeks. After a UX Audit, many teams still do usability testing, but that testing is far more informed and focused due to the insights from the UX audit.
Depending on your needs, the following may also be included in a UX Audit:
Competitor analysis: Reviewing the UX of a competitor product can help provide your team with actionable examples of what to do and what not to do.
Conceptual wireframes: Based on the recommendations from the UX Audit, I can create wireframes for key pages of the experience, to help communicate ideas and jumpstart your team's design process.
Support as you implement: As your team acts on the recommendations, I can continue to be involved through reviewing designs, giving feedback, and serving as a second set of eyes. [/three_fifth][one_fifth_last][/one_fifth_last]
---
Let's chat about a UX Audit for your product or prototype
Due to a change of schedule, I have immediate openings for 3 UX Audits.
These will go fast so contact me now if you're interested.