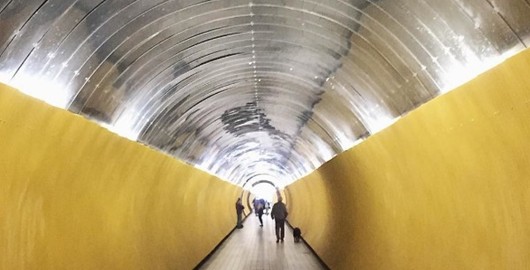 This photo is from my trip to Stockholm. It's an underground tunnel. I don't know the history of it, but as I was walking through I wondered if the person who designed it intended for it to be a moment of respite for people during the dark and cold Swedish winters. Made sense to me at least!
One of the challenges I faced when I was working at a startup full time was the idea of getting stuck in tunnel vision. Don't get me wrong … focus is crucial to success. But problems creep up when you become so focused that you almost get on autopilot and end up doing without thinking.
When you have tunnel vision, it's easy to just tick the boxes in your to-do list without pausing to ask: "Is this the right thing I should be doing right now?".
So how do you get out of the trap of tunnel vision? You need to make a conscious effort to change your perspective. Here are three ways you can do that this week:
#1: Change your focus
Schedule time to focus on something that is not your product or project. I suggest using the Trigger Questions that I have at the end of my newsletter each week as a starting point. (Go back and see my newsletter archives here. Not a subscriber? Join here.). This is kind of like a creative defibrillator – it will help you reset your creative mind.
#2: Make "why" part of your vocabulary. Yes, your teammates will find you annoying. But when you ask "why" you force everyone to justify why things are being done. Don't just ask it once, as it three or even five times. Question like "why are we doing this?", "why will customers benefit from it?", "why is now the right time to do it?" will help you think before you act.
#3: Get an outside perspective.
When I was at a startup full time I remember thinking "we're stuck" – we need someone that's not on our team to give us a new perspective. So I sought out a UX person in NYC and had them come speak at the company. The result? It gave our team new perspective and started to create a lot of conversation that wasn't happening before about our product and customers.
Do you want to get an outside perspective from me? Check out the services I offer to learn what I can do for you and your product:
60 Minute Strategy Call
We'll tackle a specific part of your product, site, or experience to diagnose the actual problems (not the surface symptoms). Then, we'll come up with a quick-win plan for you to take action immediately.
Strategy Calls are $275. Book yours today.
Custom Product Evaluation
I will conduct a usability audit and evaluation of 5 key screens of your product and then give you a comprehensive report with quick win changes, suggestions for A/B tests, and roadmap ideas for the future.
Product Evaluations start at $2,450. Request a product evaluation.
Training and Workshops
I offer onsite and remote workshops on UX including storyboarding, research, and prototyping. I also can create custom workshops based on your team's specific needs.
Pricing is on a case by case basis. Email me to discuss.