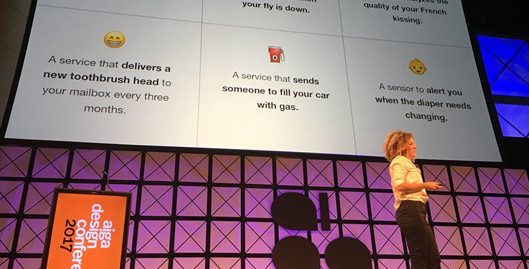 Are you afraid … or let's be real … perhaps totally terrified of …
Public speaking?
I'll be the first to raise my hand! I completely used to be. To be honest, I re-arranged my college courses so I didn't have to take a public speaking course.
Then, years later I graduated …
And I quickly realized that in the real world, public speaking is NOT an optional activity.
Ok I take that back. Maybe it's optional if you don't really want to advance your career.
I'm of the mindset that public speaking is crucial to UX designers. But here's the thing, I'm not talking about being on stage (although I'll talk about that in a second).
Whether it's for an audience of 3 or 300, learning how to communicate your ideas verbally is so important to the UX process.
Half of our jobs as UX designers end up being educating people about UX and about why we made certain design choices. Articulating our design choices is an art. And like any art form, you get better at it over time.
Any time I present designs to a client, I always … I repeat always … spend a few minutes coming up with a little script. No I never memorize it because I don't want to sound like a robot.
But I always make sure I think through how I can establish the context of what I'm going to show them, quickly refresh their memory about what's new since we last looked at the designs, and then I get into the designs and always make sure I can justify the design decisions.
And most of all, I make sure I know my audience. I think about how or if I need to tweak my message based on the audience.
Two weeks ago I got to speak at the AIGA (American Institute of Graphic Arts) Design Conference. There were about 1,800 people there. Was I nervous? Yes!
But here's the thing…
I knew that I was prepared. I knew that I had tailored my message to the audience. And I told myself I could get a cider after it's over (I'm not drinking much these days as the NYC marathon is fast approaching).
So get over your fear of public speaking.
Here's how you can take action, just start small…
Offer to present designs in the next meeting. Volunteer to lead a brainstorm session. Or, get out of your comfort zone and commit to speaking at a local event!
READ THIS NEXT:
Why You Should Consider A Radical Transformation