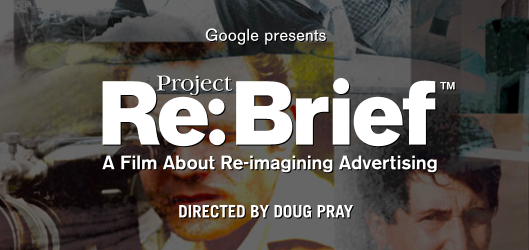 I really thought I'd arrived. It was my first day as a web designer at a large software company. I was sitting in my own office (with a window and door!) figuring out what I was supposed to do, and then I got an email. A guy needed me to make him a banner ad … my heart sunk. I had this visceral reaction and thought to myself "I am that person who has to make those tacky banner ads". I didn't know that was even a part of my job description. I'd never even made an animated gif in my life! But it was my first day, so I figured it out, and the guy got his banner ads, and many more.
Looking back, the most frustrating part about that experience was feeling like I'd sold out somehow as a designer and storyteller. At the time, I was reading books like Emotional Branding and Ogilvy On Advertising and I was excited about the opportunities that technology was opening up for us to apply old-school communications and design techniques to a new medium. But, at the time, there was clearly no place for innovation like that. That was nearly 10 years ago, and you know what, not much has changed in the digital advertising space.
In 2012 digital advertising will turn 18 years old. And after two decades, there has been little innovation in using the medium to engage instead of just inform. People are spending more time online than ever before. So why haven't we figured out how to reach them where they're at?
Googled wondered the same thing and recently launched Project:ReBrief – an experiment focused on the future of digital advertising. The project aims to figure out how to use storytelling to capture and deliver emotional experiences in the digital age.
The experiment, which culminates in an upcoming documentary film, takes four iconic campaigns from major brands, and tries to refactor the campaigns for the digital age. It's truly brilliant. Working with the original creative directors, art directors, and copywriters of campaigns for brands such as Avis, Volvo,AlkaSeltzer, and Coke the project seems to take advertising icons "who defined mediums of the past" and work with them to "help shape the medium of the future".
It's no surprise that a key theme that appears to be emerging from the advertising legends is that of storytelling. Howie Cohen, copywriter for Alka-Seltzer's 1972 iconic ad I Can't Believe I Ate the Whole Thing notes that "People need to be communicated with in an emotional way, and storytelling is the best way to do that." How did the balance of our focus move away from people and learn too much toward technology?
In the trailer for the documentary, one of the people interviewed says "to come up with great display advertising, you first just have to come up with great advertising." It will be interesting to see if Google can help an entire industry re-imagine it's own craft for the web, and more importantly, people.
Visit Google's Project:ReBrief to learn more about the campaign and film.
READ THIS NEXT:
9 Ideas For Designers & Everyone To Live By