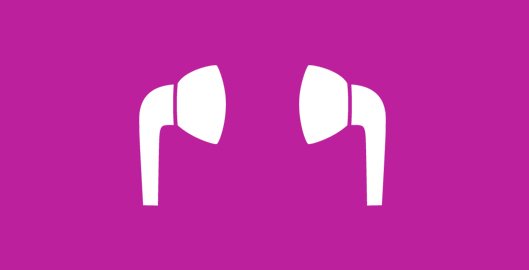 A few months ago I decided that I wanted to focus more on learning. But, after I decided that I wanted to focus more on learning, I had a hard time executing on that. At first, I thought I'd read more books. That didn't work out too well because I found it hard to carve out time to sit down in read. Then, I thought I'd take a class on an interesting topic. But again, I found time to be a problem.
After those experiences, I started to get frustrated with myself. So, I decided to figure out where I did have free time and how I could use that existing time to learn. After I thought about it for a while I realized that I spend a lot of time traveling to meetings, to offices, to the store, to the gym, to meet friends.
I am probably on the go for about 90 minutes a day. That's a lot of time. So now that I found time that already existed in my schedule, I then had to figure out how to use that time to learn.
How did I do that? Well, I rediscovered podcasts. Ya, remember podcasts?
I remember in the early years of iTunes when Apple (I think) was the first to introduce podcasts (if I'm wrong on that fact, let me know!). I feel like podcasts were cool for a short period of time. But then, my problem was that there were so many podcasts, that it was hard to find interesting ones. As well, I feel like the market for apps has somewhat overshadowed the opportunity for audio content.
I'm loving podcasts right now. Time I used to spend listening to music while on the subway or walking down the street is now spent listening to podcasts of all types. Some podcasts I listen to are for learning, some are for entertainment, and some are more just life topics and feel like audio therapy!
So, I wanted to share my favorite podcasts that I'm loving right now:
"The Entrepreneurs" by Monocle
I first heard about Monocle when I discovered Monocle Magazine. I'm honestly not sure if it started as a magazine, but today Monocle describes itself as a global briefing on international affairs, business, culture and design. I love Monocle's "The Entrepreneurs" podcast because it features many entrepreneurs or startups from all over the world who are solving very interesting problems. As well, the interviews always leave me with a great lesson or insight that I end up thinking about for the rest of the day. Also, check out Monocle's website for a lot of other awesome articles, videos, and interviews.

"The Lively Show" by Jess Lively
Jess Lively is an entrepreneur based in Chicago who does business consulting, personal coaching, and a dash of design. I can't remember how I discovered Jess's website, but she has a fantastic blog that I read weekly. Everything Jess does is centered around the concept of intention and she wants to help people design their lives or businesses with intention. I love it! Jess has a very down to earth style in both her writing and podcasts. She covers everything from debt reduction, to balancing life and marriage, to fashion, to productivity and so much more. Also, her website isn't only for women, but men you definitely want to recommend this one to the women in your lives.

"The UX Intern" by Wesley Noble
I literally just heard about this podcast tonight and just finished listening to my first episode. And because it's about UX I just had to include it! I like it so far because it doesn't focus on tips and techniques (well at least the episode I listened to) but instead explores how UX designers got into the field. It's fascinating to hear the very non-linear path that a lot of people have been on along their career as a UX designer. I love Wesley's interview style too, since he is a UX intern he asks a lot of great questions and applicable to people new to the field as well as people who consider themselves veterans.

"On Being" by Krista Tippett
I stumbled upon Krista's podcast a few months ago when I was doing some research on Brene Brown. Her public radio conversation and podcast "On Being" garnered her a prestigious Peabody award. Krista's podcast focuses on life, sociology, and what it means to be human. She has a very gentle style that makes the guests and conversation feel very natural and comfortable. I really love this one and it has a great calming factor if you've had a particularly stressful day.
Where can you find some time in your life that you could "exchange" and instead of listening to music or watching television, try listening to a podcast instead. You'll probably feel a lot smarter, calmer, and productive.
And, if you have any favorite podcasts, I'd love to hear about them!
READ THIS NEXT:
What Is A Startup?