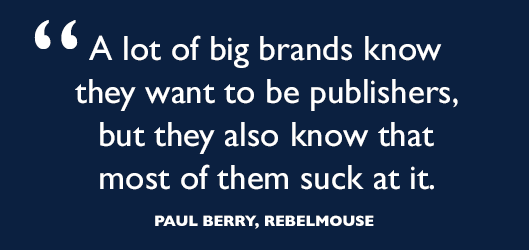 It's no doubt that technology is having an massive influence on who we are and what we do as a society and as individuals. Our "always connected" lives combined with a growing number of ways to share our every thought and experience has, in effect, made each person a publisher of their own life and story.
Last week, a new service called RebelMouse launched. Created by former HuffingtonPost CTO Paul Berry, it is a service that aggregates your activity across major websites (right now, sites include Facebook, Twitter, and Instagram) in addition to letting you write posts directly from the site and providing analytics around how people are consuming and sharing your content.
I've been using the service (my page: www.rebelmouse.com/sarahdoody) and enjoyed seeing how I've been representing myself and the story I'm telling through my posts. However, though this early usage, I've formed a hypothesis around how RebelMouse may bring some change and challenge to how brands approach the hot topic of "content".
Last week, I wrote about a post called Kill The Content. Tell Your Stories. that focused on the idea that brands need to take a step back, and before they spend any more time creating content, they need to first understand their story. No amount of content is going to be worth anything unless it is enveloped in a great brand story that consumers can be a part of. So how does RebelMouse fit into all this?
I think RebelMouse has the potential to be a mirror for brands – an opportunity for brands to see all their content in one place and realize that many of them are lacking a cohesive digital brand story.
In a recent AdAge article, Paul Berry had a quote that touched on the topic, saying that "A lot of big brands know they want to be publishers, but they also know that most of them suck at it.". In the article, it goes on to talk about how part of the problem that Berry hopes to solve is to take some of the friction out of the actual publishing process for brands and companies. He says:
"A lot of people and companies are pretty damn good on Twitter and Facebook and really embarrassed about their websites," Mr. Berry said. "But it shouldn't be that hard. So this is for individuals who have their own websites, companies and brands with their own blogs, who are struggling with a Tumblr or WordPress type of operation."
Will the ease of publishing and curation, combined with the mirror effect of RebelMouse cause brands to reflect on the quality of content they're producing? Will people and brands be motivated to tell a better story about themselves? Will seeing all the posts next to each other shine a light on the fact that most brands today could serve themselves well by hitting pause on the publish button and go back to the storyboard?
What do you think? Curious to hear your thoughts.
READ THIS NEXT:
Kill The Content, Tell Your Stories