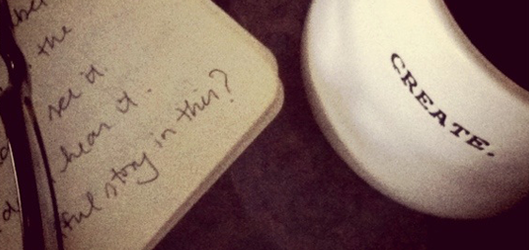 Years ago while living in Portland, I wrote this as a reminder of why I do what I do.
Having recently found it and being inspired, I thought I'd share it with my designer friends … a source of inspiration for people who are just starting their careers, a kick in the ass for people who maybe need to make a change, and a reminder for everyone else, that there is no 'there' and that what matters most is not what you achieve, but who you become along the way.
1. Look beyond the immediate
Don't let yourself become paralyzed by the situation you're currently in. Whether you've hit rock bottom or feel like you are at the top of your career, always remember to look to the future – to examine your potential – to look beyond the immediate.
2. There's always room at the top
If you are great at what you do, people will notice – whether they are looking for it or not. When people find someone who is great, someone who has authentic passion, talent, and persistence that is so rare, they will take notice. People will carve a place out at the top for those who choose to be great.
3. We've all done our time
Along the journey, each person will likely find themselves in a place where they don't fully enjoy where they are at. Realize that these times are only temporary – and if we choose, lessons can be learned along the way – that will help you get to where you want to be.
4. Seek wonder in the detail
Train yourselves to be an observer. Learn how to filter through the noise and see the beauty and inspiration that we often let pass us by each day. Slow down. Don't think so much. Learn to imagine again and think like a child – with curiosity, inquisitiveness, and fearlessness of the unknown.
5. Discover your strengths
Each person is born with inherent gifts – unique talents that when discovered, should not be ignored. Realize that you're greatest potential will be realized when you focus on your strengths, instead of trying to fix your weaknesses.
6. Work from the inside out
In creative projects, in life, in everything – learn that you need to work form the inside out. You can't know your purpose until you know who you are. Likewise, you can't know a design, until you have an intimate understanding of the product or service, you can't build a great building until you know each intricate detail about how it needs to function. Work from the inside out and the design will come naturally as a result of the intimate understanding of purpose.
7. Make your own rules
Change is inevitable. You must be flexible and agile to adapt to the
change that you face each day. Don't allow yourself to be caught up in doing things the right way. Do what works – in the context of the situation – in the context of change.
8. Ask stupid questions
People love to be listened to. It is validating, empowering, and flattering. Take time to focus on listening more than speaking and you will be amazed at what type of information and ideas people will naturally volunteer.
9. Love the process
Forget the destination. The destination is dead. Half of the time you have no idea what the destination is. Learn to appreciate the process. Understand that what you learn during the journey is far more precious than the destination.
READ THIS NEXT:
High School, Start Ups, And The Power Of Perspective